Half of 2020: T'es Capab'
2020: ▓▓▓▓▓▓▓▓░░░░░░░ 50%
Welp. That went by quickly, didn't it?
T'es capab'—it still stands. Happy Canada Day.
The urge to forget is strong. So I'm working against it. Here are some notes and links to my stories from the last several weeks to remind us what's what.
On March 11, I recall someone behind me at a lecture on Carleton campus saying they'd just returned from a trip, and they "wouldn't want to be leaving on one now." I felt only mild discomfort, which would turn to retrospective alarm. The one handshake I gave that night caused her and I to laugh and ask, "should we be doing this?" It didn't become overwhelmingly real until the next day, March 12, in the communications office as I tried to write out a thoughtful piece about something important while the team around me kicked into crisis communication mode. 
I became gripped in fear that didn't subside. I wrote some newsletter to alleviate it. Some other people told me they felt "encased in amber" or living in "a series of paralytic moments."
In the days and weeks that followed, I felt like there's was a piece of me missing. I tried to replace it with KitKats, off-brand lemon cookies and peach rings, and beer. They just clogged me up and slowed me down, of course.
My friend Jamie, a traveling musician: "My world crashed on March 11th. I retroactively wrote into my planner on that date 'Today was a bad day.' I was home (yeah, in Toronto! Just hit one year here!) and got phone calls cancelling a 3-week Ben Caplan Eastern European tour, a 1-week Old Stock (fill-in) gig in Wroclaw, Poland, a 2-week tour of the UK with Laurent Bourque followed by a 2-week tour of Japan which would have just wrapped up! All of it gone and then the whole industry disappeared entirely. If it wasn't for this CERB it would have been ugly, so that's been incredible, as our industry doesn't seem to be possible until maybe, summer 2021 at the very best? It's absolutely terrifying, and I've genuinely been mourning the loss of what might have been the 'dream' as I've always thought of it. It just might not be possible for the next few years, and for the first time in my life I'm left unsure of what exactly to do next."
My friend Rowena, who flew home to Ontario from Zambia where she lives and works: "We drove from Orillia to Markham to pack up my sister's grade 1-2 classroom. The school was shuttered and it was just us and her principal. It was stuck in the Before Times: enormous calendars said MONTH MARCH DAY FRIDAY DAY 13 (creepy). Some snow boots and snow pants were hung up outside on tiny little hooks (aww/gross). We put their papers in their desks and taped their artwork on top of their desks by their names and stripped the surroundings bare (can't believe teachers pay for all this shit themselves). It was sad! The kids went away excited for March Break and just didn't come back. OK, quarantine feels long, sure. But quarantine as a 6 year old is like 1/18th of their life."
An acquaintance's son had this to say: "There are some people in my Grade 8 class that I'll just never, ever see again."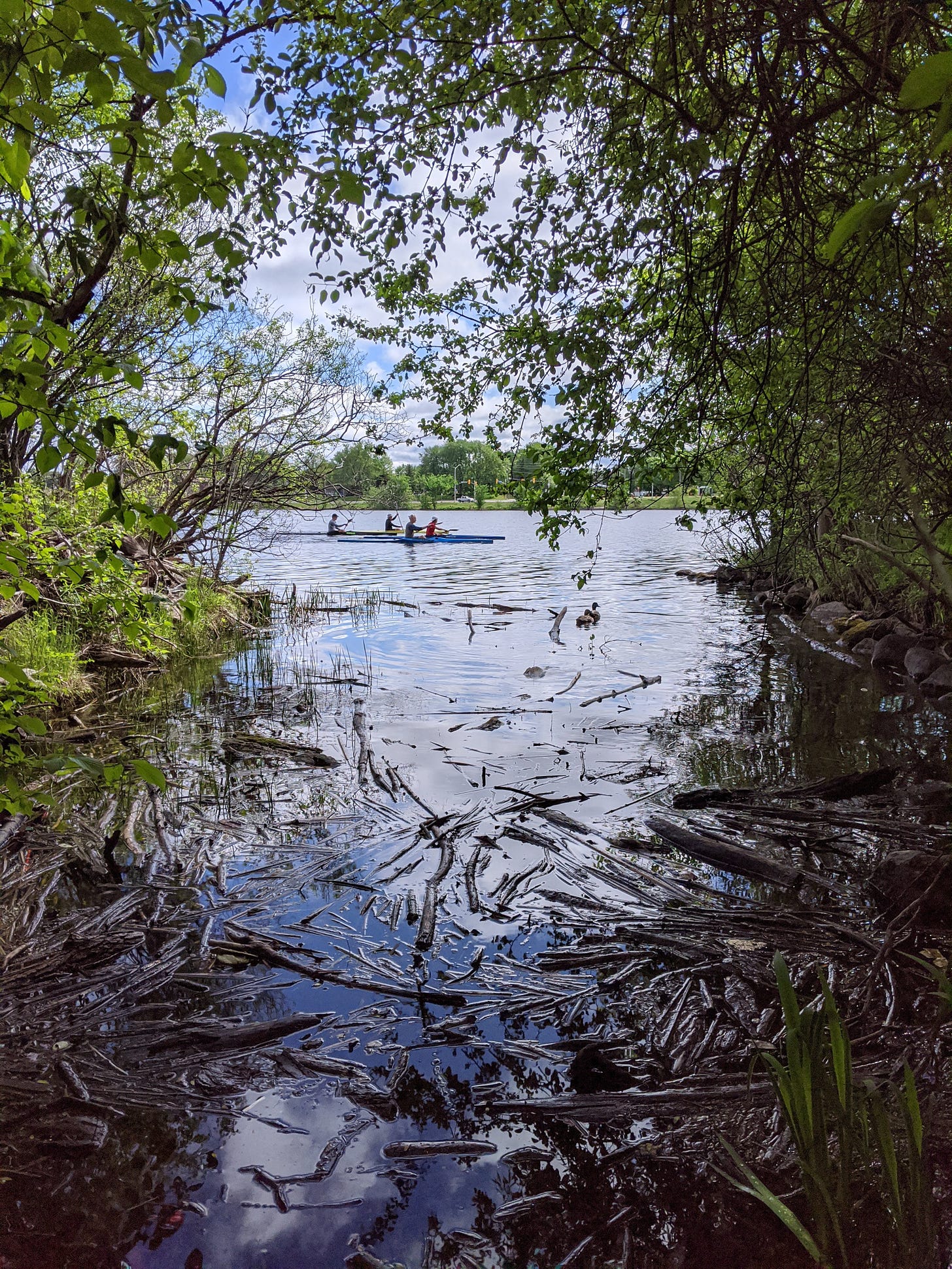 Mid-June: Hair salons, nail salons, restaurant patios and swimming pools reopened in most of Ontario. That serves about half the population of the province, and more were added to the list on Thursday. Anecdotally, people seem to sense that this is the economy relaunching. People who have been sitting at home for months are getting back to work. Customers are able to unleash whatever demand has been sealed in their wallets since March. The Prime Minister got a haircut.
On June 15, the Ottawa Public Library began handing out their holds again to anyone who made an appointment. New holds were not yet available, but old holds (ones on the shelf in the Before Times) were going to finally get out into the world. In the Main Branch, there were about 2,000 books on the hold shelves from the middle of March. Approximately 500,000 books were taken out during the quarantine, which is about 25 per cent of the whole collection.
The regular movements of patrons are: flipping through the pages to find any bookmarks, finding a loose DVD and popping it into the back flap sleeve, carefully stacking paperbacks on hardcovers and balancing them, placing them into boxes that will sit quarantined for up to 72 hours in Nepean Centrepointe's boardroom, in the hallways of Ruth E. Dickinson, and along the back wall of the second floor of the Main Branch.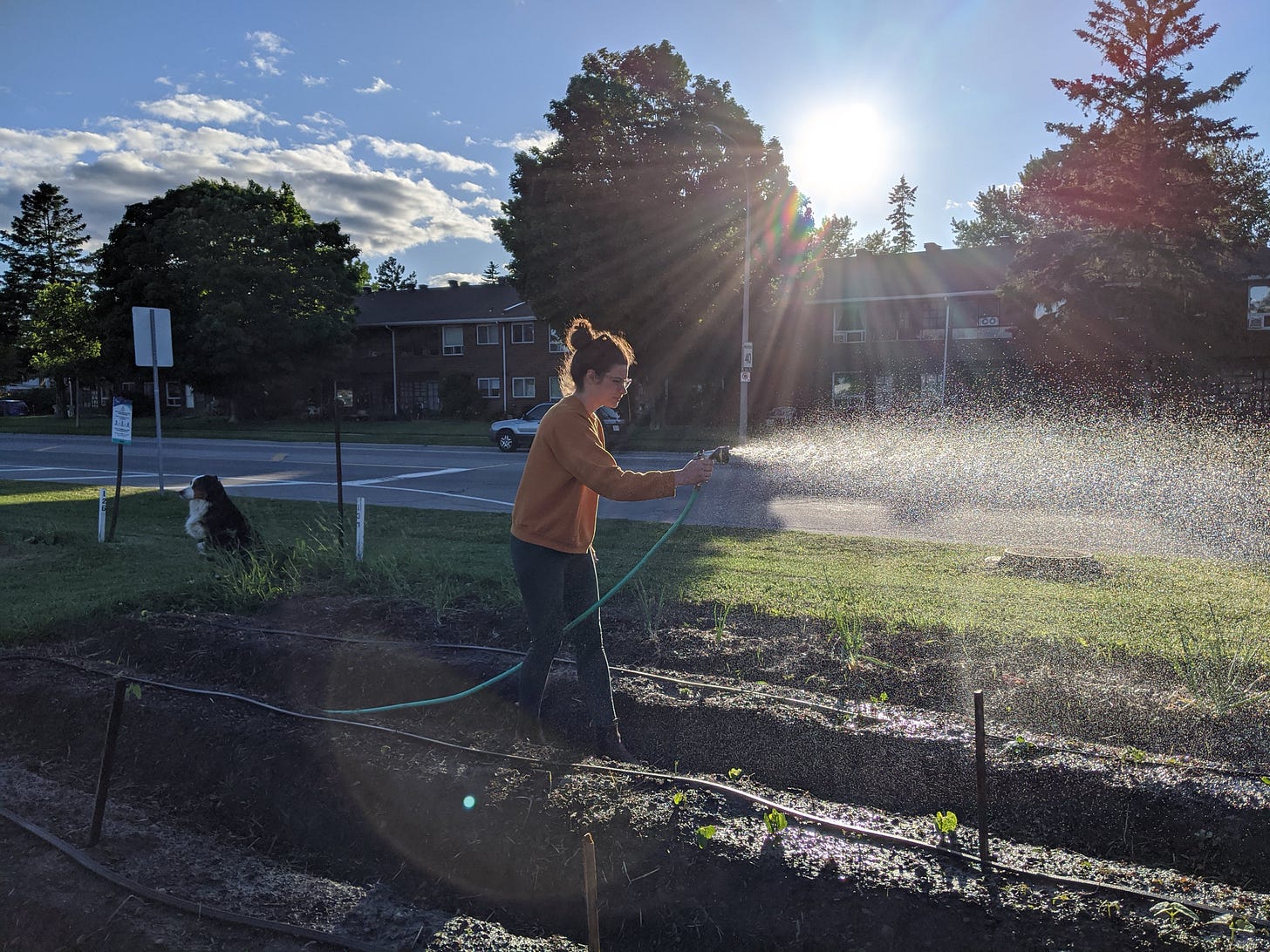 I was going to pick up an order from Octopus Books when the dang world changed. On March 16, the Glebe book shop left me a voicemail: "We got your third book in but we're going to be... painting, for the next few days, so... please call ahead and we can pass you the books through the door." 

Part of me thought, What a strange thing to lie about. Why not just admit that the dang world changed and we can't let people in our store right now? Another part of me thought, What a good time to be painting. (It turns out they actually were painting.)

On April 25, I picked up that order. I called in and owner Lisa Greaves (whom I've never spoken to) told me: "Okay, one book seems interesting, it makes you interesting; another book is something I would like to read; and the other one is something I know nothing about... I'm not sure who are from these books... You seem younger than me, and I feel like if we were the same age I would have a crush on you.

"Now, when you pick these up, try to guess which are which."

Can you guess?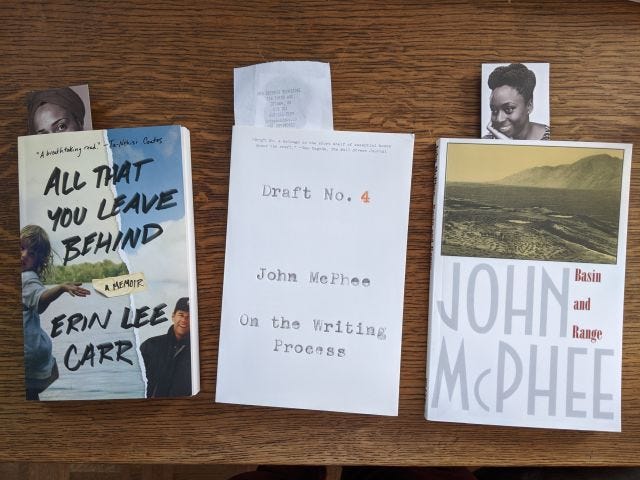 Recently, my friend Alexa asked me: "How do you figure out how to prioritize all the things to read? You seem to read a lot so I figured you'd know." 
Nope. I do not know. Well, I don't have a method—I read the same way most people scroll: indiscriminately. (I scroll, too.)

The closest I ever got to a method was reading books about parental death and grief to write my own book in the same genre. I read 37 such books. When I mentioned this number to my well-read friend Ami, he said: "Thirty-seven? I think that's more books than I've read in my entire life."
He's lying.

Maybe what stops most people from reading or writing or doing anything creative or passive or not immediately gratifying is that other people seem to do it so easily. I'll never be that good, I think to myself when I see Jason McBride's byline inToronto Life or listen to the Vox podcast by Ezra Klein or read a single line in any piece by Kurt Vonnegut.

Dude, who cares? It's hard to do—when we are always watching others perform—but ignore them. Just play against yourself, that's what my uncle Paul always said. Knowing what kicks ass, what's excellent, is necessary to get there one day.
Art critic Joe Queenan wrote in his memoir One for the Books: "Somewhere along the line, I got into the habit of reading several books simultaneously. "Several" soon became "many," and "many" soon became "too many."... In my adult life, I cannot remember a single time when I was reading fewer than fifteen books, though at certain points this figure has spiraled far higher… Right now, the number is thirty-two."
Listen: I am constantly struggling to prioritize my reading. I think I own between 350 and 400 books. I have six books by my bedside and magazines stacked near my sink. When the pandemic hit, I had out 23 books from three different libraries.

On March 17, the Carleton MacOdrum Library renewed my four books until May 4, 2020. Sometime that week, the OPL renewed my 16 physical books to April 22, 2020. My audiobook and ebook titles (nine of them) were given no extensions, because I renew and return them through OverDrive. On April 15, Morisset Library at uOttawa renewed my books until May 31. Now they are all due in September.
I've been lucky enough to be trapped with these books for the last and next several months:
From Carleton MacOdrum Library:
The Norton Reader: An Anthology of Expository Prose—over 200 excellent essays
Writing Literary Features by R. Thomas Berner—a forgotten textbook that I used for Narrative Writing two weeks ago
Arguing and Justifying by Robert F. Barsky—research for a Carleton story
The Internet Trap by Matthew Hindman—Dalton Camp Award research

From the Ottawa Public Library:
The ASJA Guide to Freelance Writing—biz dev
Writers' Rights—biz dev
Chile (a kid's book)—honeymoon research
Fodor's Essential Chile (a tourist's book)—honeymoon research
Solitude (a loner's book [about Patagonia])—honeymoon research
Must Write—The Edna Staebler Personal Essay contest research [I didn't apply, great book though]
We Were Eight Years in Power by Ta-Nehisi Coates—contains "The Case for Reparations", which I assigned to my Narrative Writing class
Communication Revolution—Dalton Camp Award research
Democracy and the News—Dalton Camp Award research
Rich Media, Poor Democracy—Dalton Camp Award research
This Place—factual and fictitious Indigenous stories told in comics
Pity the Reader—Kurt Vonnegut teachings, written posthumously by one of his students
The Pleasures of Reading in a An Age of Distraction—been trying to finish this one for over a year
Words Are My Matter by Ursula K. LeGuin—speeches and book reviews by a true boss
Burn This Book—anti-censorship essays by PEN writers

From the University of Ottawa Morisset Library:
Sur le journalisme par Joseph Pulitzer—etc.
Reporting for Journalists by Chris Frost—etc.
Journalisme narratif en pratique par Alain Lallemand—etc.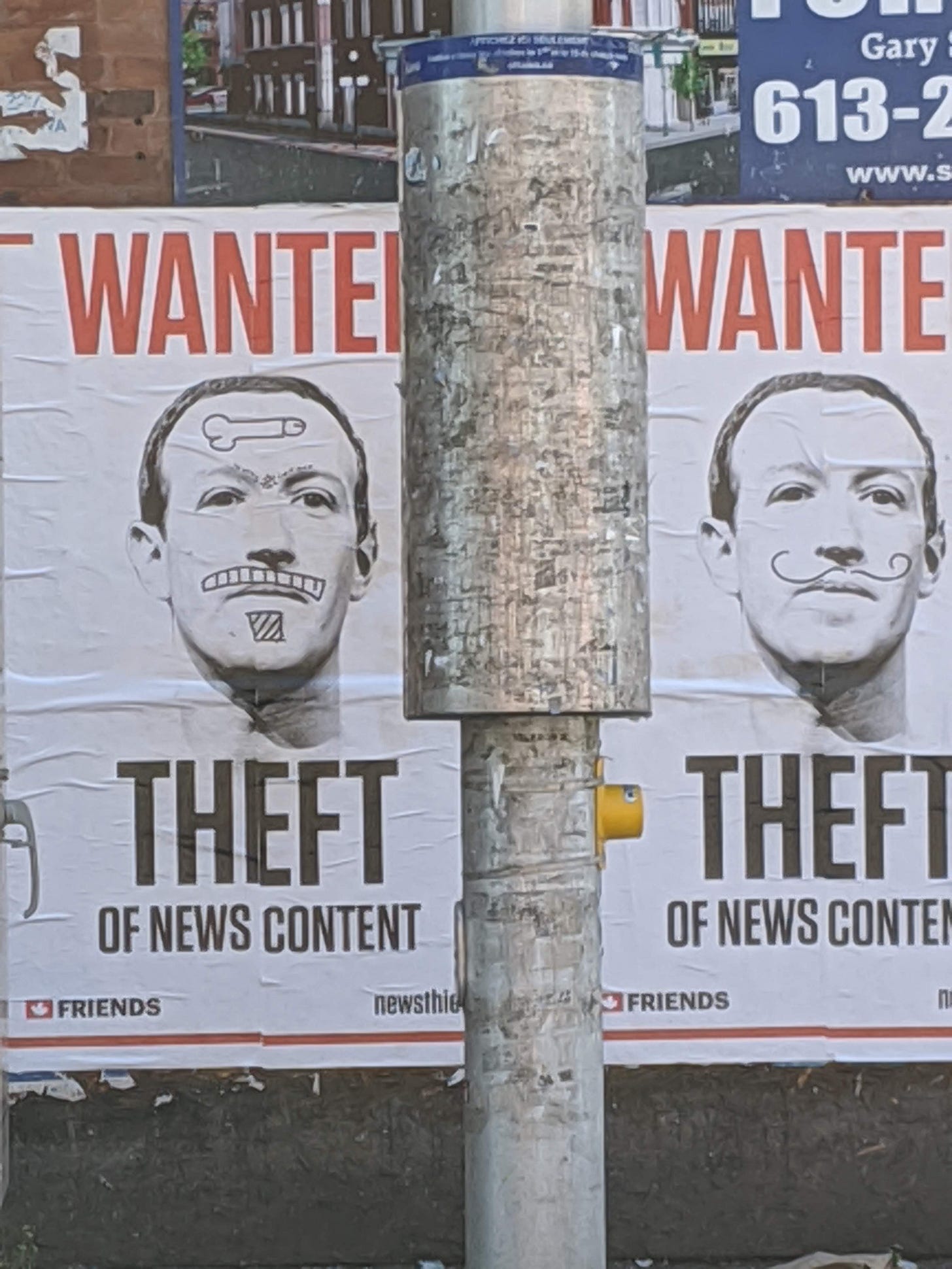 Despite all that research and reading and last minute-blitz of writing with a submission time of 7:58 p.m. for the 8 p.m. deadline on March 20, I did not win the Dalton Camp Award essay contest. It changed in the last hours, to include the coronavirus. Here's my entry, which I designed as a letter to my students. It's okay. I'm glad I wrote it, despite its small problems.
Here's an excerpt:
"[Journalism] can educate, criticize, entertain, and publicize. But what journalists are really doing, when they are publishing or broadcasting, is amplifying. And how we choose what to amplify, or how we allow ourselves to be told what to amplify, is why we need better crap detection.
"For example: on Monday, March 16, I received a press release about a remote-controlled vibrator which assured me that the best thing about it was its covert use in public. Here's an accurate, translated quote: "So even while stocking up on pasta and toilet paper at the supermarket, you can still have fun from afar. And with your medical masks, you'll have even less chance of being noticed. Your beatific smile will be hidden."
"Who wrote this crap?
"There's no way I would amplify that. (I know I just did, hush.)…"
Yeah, it's like that for 2,000 words.
Hey, t'es capab'.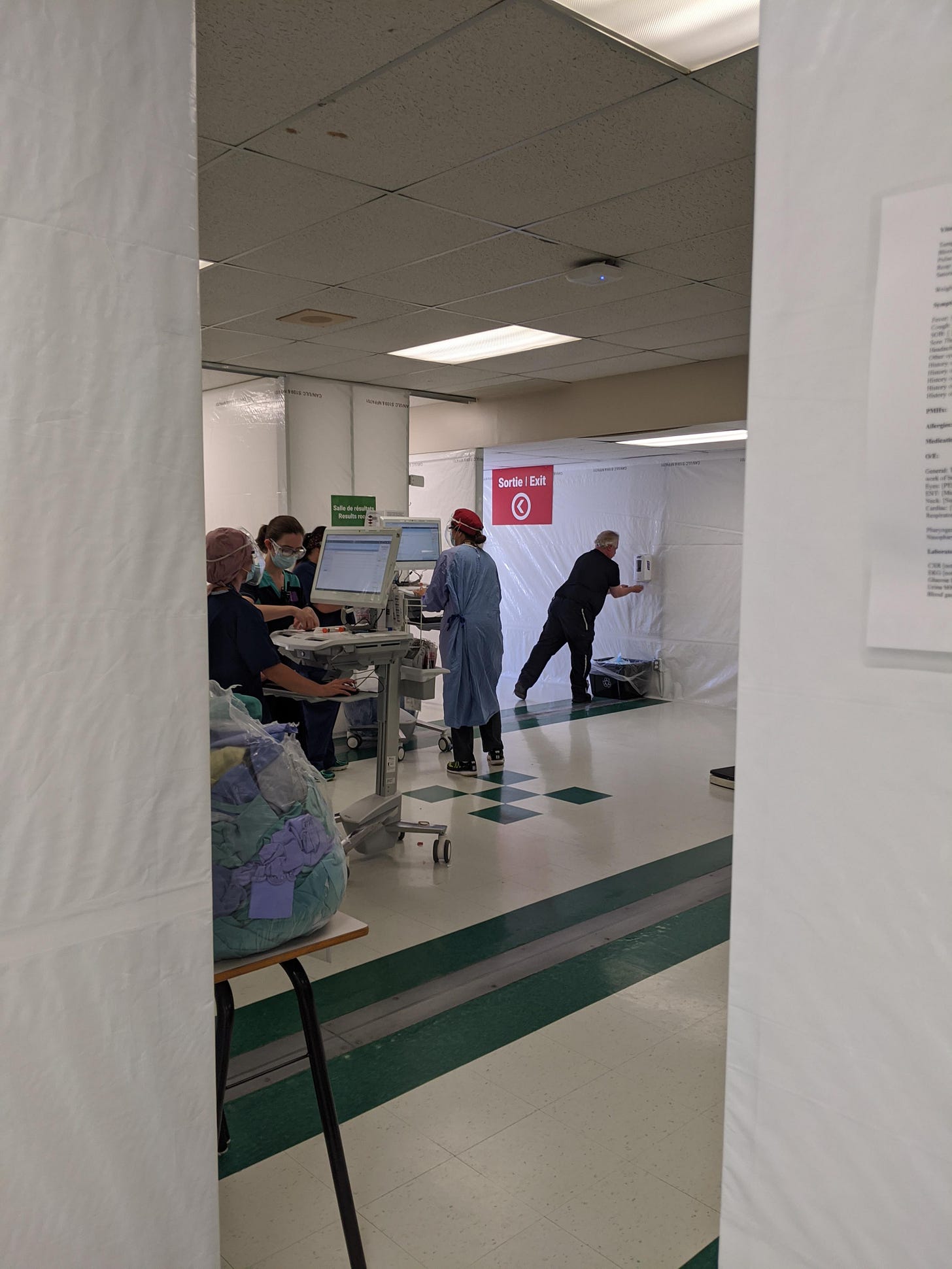 On June 18, you got tested for the coronavirus SARS-CoV-2 because your nose was runny. 
There's a lot to notice waiting in a line of worried people. You notice the scabs on ankles, the foot tattoos, the contrast between brightly-coloured clothes and testimonials of nausea and dizziness. You hear people's birthdays and realize you know exactly how old they are, in that moment. You're handed a green and white sticker that looks like a post-it at the screening stage. Those around you with "a small tickle in my throat" get the same sticker with the letters HCW on it. 
It was hot. A third drop of sweat fell down your back as you arrived to the testing stage. But tall scaffolding draped in white tent cloth protected you from the sun. The perimeter of the courtyard of St. Patrick's Intermediate School—scuffed by a million sneakers and balls—had its yellow social distancing lines scuffed by a thousand boots and sandals of people waiting to have q-tip skewers probe their throat and nostrils.
You disinfect your hands four times in 40 minutes. Your nurse named Jasmine has a purple sticker on her chest that says RUNNER COUREUR. After Dr. Gagnon skewers you with his probe, he thanks you. You disinfect your hands. Out the exit, stickers line the handrail like the National Gallery of Canada's admission stickers line the light posts at the corner of Sussex and St. Patrick.
You've got a tickle in your throat, put there by Dr. Gagnon.
The next day, the Ontario government tells you don't have the coronavirus. So your weekend is still on.
It's worth remembering what this new world is like and of what it reminds you.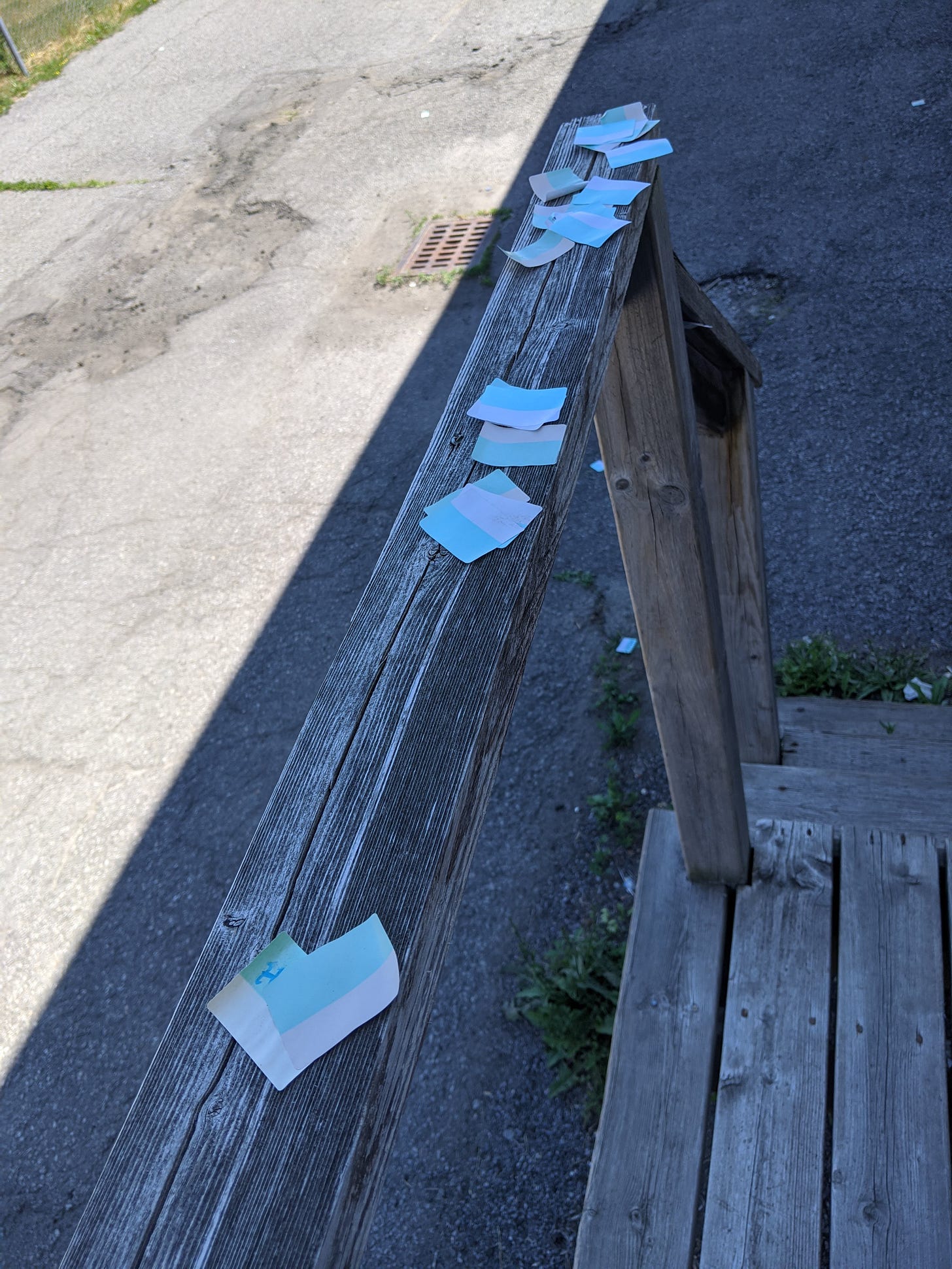 Okay, here's some heavy thought about introspection and a picture of two dogs to tide us over until August.
David Foster Wallace's said something like: "A Democratic Spirit is one that combines rigor and humility, i.e., passionate conviction plus a sedulous respect for the convictions of others."
Alan Jacobs in How to Think: "…Wallace was wrong to say [alongside this definition] that, "you have to be willing to look honestly at yourself, and at your motives for believing what you believe, and to do it more or less continually." You really can't do that, which I believe he discovered. His ceaseless self-examination caused him ceaseless misery and contributed in a major way to his early death. Better to follow the principle articulated by W. H. Auden. The same rules apply to self-examination as apply to oracular confession: "Be brief. Be blunt. Be gone."
"We shouldn't expect moral heroism of ourselves, such an expectation is fruitless and in the long run profoundly damaging. But we can expect to cultivate a more general disposition of skepticism about our own motives, and generosity toward the motives of others. And, if the point isn't already clear, this disposition is the royal road that carries us to the shining portal called, "learning to think.""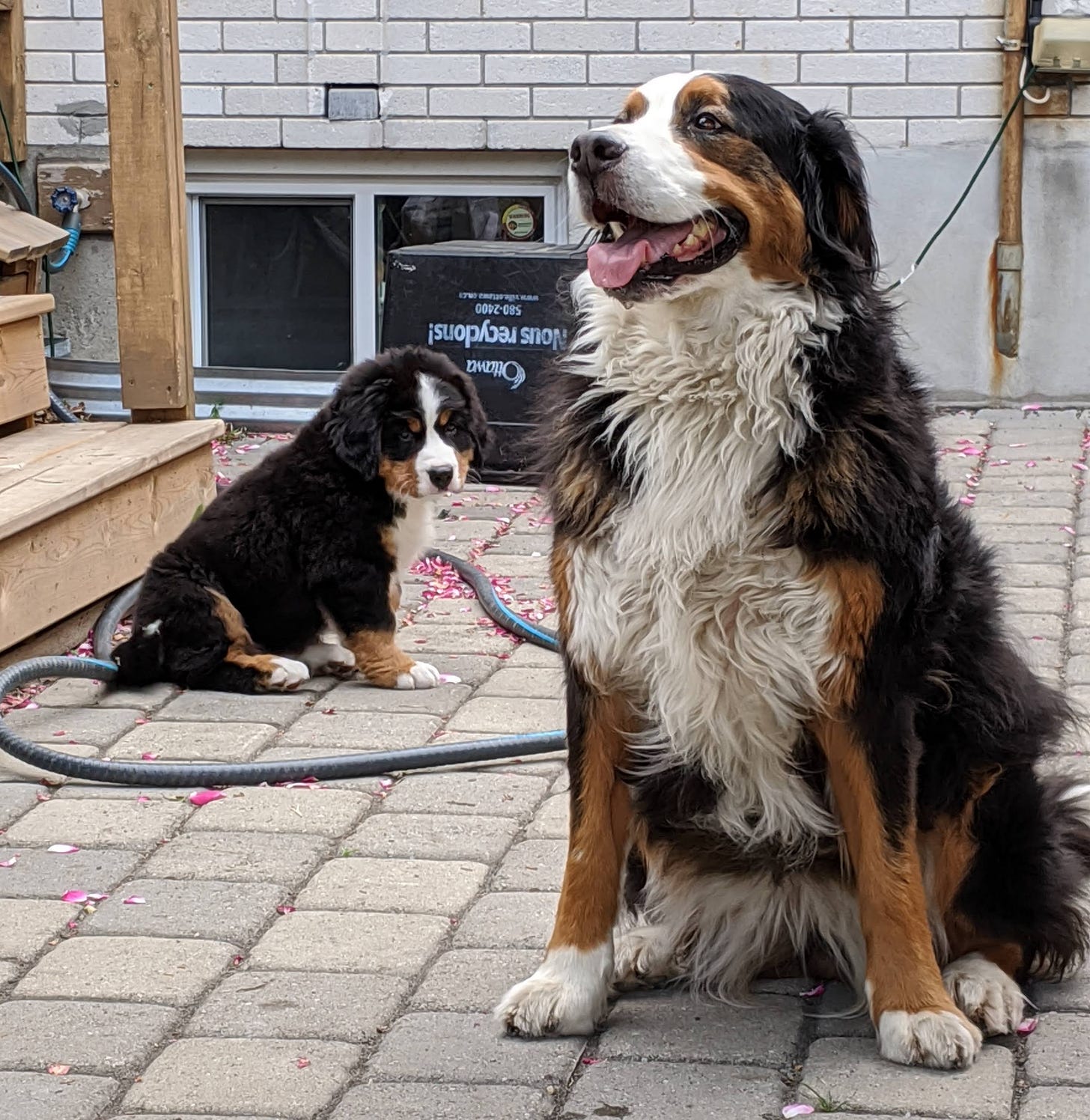 Capucine & Brisket, June 23, 2020. Not a brother, not yet a bud. One day, Beef, she'll come around.
-30-