March is the month to keep going. It's brought to us by ZINC OXIDE! Slather those lips in zinc oxide, please!

I don't feel like I earned February's 29-Day Challenge Prize because I missed seven days of writing for myself. Plus they don't sell 3/4 bottles of Oban. Plus I have bought as many cans of beans as I could possibly fit into my Ottawa Magazine, New Yorker, and Honda brand tote bags. So I don't need distilled malt liquor—I have fibrous protein. Plus it's March—not October. Break out the piña colada!

But first: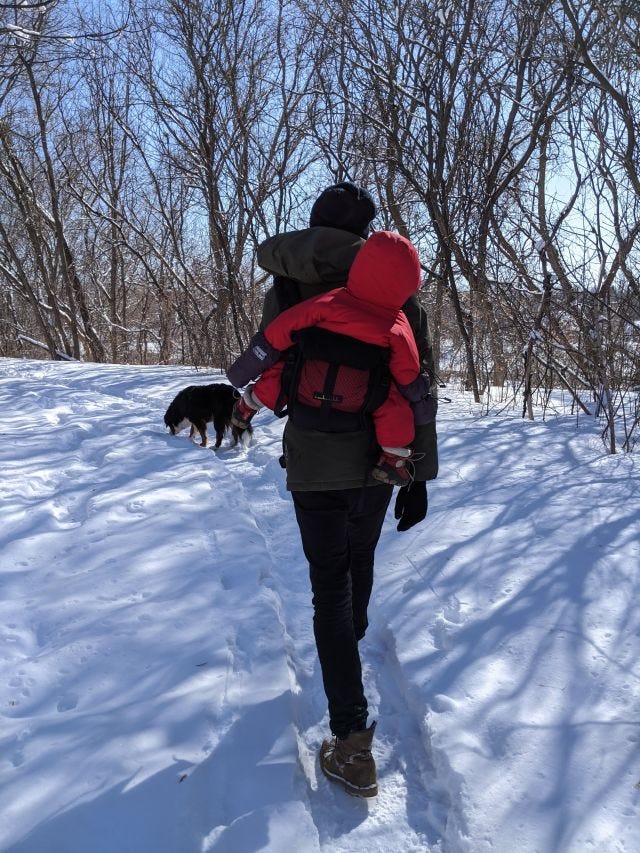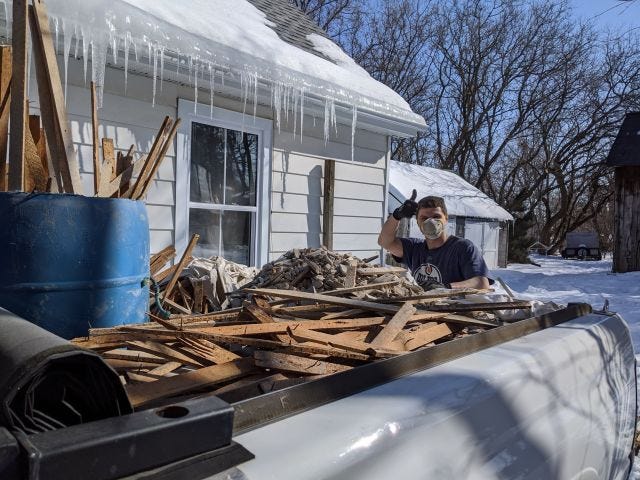 Remember how warm days return, in earnest, in late May? Don't forget!

The first rays of sunshine: they kiss and then burn your face, they whisper hope for warmth in your ear, and they dry your lips into dusty, dead caterpillars. (To buy: zinc oxide.) These rays of light are so welcome I want to eat them, stick out my tongue and try to catch photons like atomic snowflakes. I'd like more snow, too.

However, nice warm days in early March don't mean spring is here. What's really coming: "Oh yeah... March. Oh yeah, April! Oh yeah, late April (a.k.a. early May)." Ski season is far from over, buddies! (It's only five weeks from being over, buddy.)

Our blessed snowy days got me thinking about blizzards. What are the effects of blizzards, not on traffic but on people? There's something insular and there's something revelatory about big snowfalls. Things slow down. People slow down. If people stand still long enough they become persons. They're in the middle of some large, impressive happening in real time, and that thing is also happening to strangers all around them. All to say: it seems to make people talk to each a bit more.

Once you get past the essential (and arguably unavoidable) weather talk people say real things. Some notes from Feb. 7, 2020:

I shovel in back, in front, and at the mailbox. The snow is still coming. As I finish shovelling our driveway, my large neighbour with the salt-and-pepper beard, who has never said hello, who wears gym shorts (and nothing else) throughout the summer, and who is now wearing a fur-lined cap, sends me a baritone, "Thank you," for clearing the mailbox. I nod, laugh, and keep shovelling. He shows up beside me: "Does he like the snow?" Capucine bounds toward him but he raises his hand apprehensively. "Oh, she's very, very friendly," I say.
"I was bitten by a Bernard," he says, in his Russian accent. "Long time ago. The family—they were all butchers. And friends of mine. I was visiting their house, and I thought no one was home, but the grandmother was home. I came to the door and the dog grabbed me, he didn't hurt me but—"
"He held you down?"
"He grabbed me," he said in an accent as thick as his fur cap. "I think he was sick, because the grandmother made him drop me. And then she said, 'Caesar!' (His name was Caesar.) 'Caesar! Guard the house!' And he jumped up and bit her elbow."
I nod, laugh, and keep shovelling as he keeps talking. Three girls run down the street with a plastic sled and sticks. Cap chases their sticks, jumps over them, and ran away with a mitten. Their a chorus of, "Off! Off!" to get her to drop it does nothing. She chews on as my large neighbour walks away in the snow.

Here I am being sandbagged by one of my student's children on the last day of our Journalism 4 class. I am both excited and sad to see "my class" take off into the real world. Did I help?

There's still a lot to dooo. What else is neeew?

Gotta:
Write that Dalton Camp Award-winning essay.
Write five Carleton stories.
Read four books.
Prepare and teach four Narrative Writing classes.
Pitch three stories to publications known and unknown.
Attend a workshop on teaching autistic kids.
Prepare the house for dahlias.
Launch a wedding website.
Edit some stories. (My students made this magazine and photoshopped my face onto one of their bodies on page 7!)

Even when they're nice about it, editing smarts.

"Editing always hurts," said writer John Jerome. "It hurts to be improved, particularly when it is the product of your very best talent that is being improved. How could it not hurt, being improved?"

I have a piece in the inaugural Raven Magazine: The New Carleton U. I didn't write the piece very quickly because it had no deadline. I submitted a file called "Raven1—Allie & Murphy" which was almost completely rewritten into "Canine Connections".

I told my journalism students every class that a big part of being a writer is dealing with failure, mistakes, and mishaps. Nothing can encompass all three difficulties quite as well as An Edit. But An Edit—no matter how painful—is an endorsement. (Same with a criticism of your work from a reader, no matter how unwelcome.) An editor's pen or keystroke on your piece is an implicit thumbs up. So there are worse ways to fail or fuck up than submitting sloppy copy. (Note to Joe: Don't do that again.)

But you know, I kind of wish I would get an edit on a piece I submitted to a CBC writing contest. I took these 50,000 words I've been carrying around for six years and I wrote a nice, poignant thing about my dad. But was it good enough? Can I have that text back real quick?... That's not how it works, unfortunately. Try fitting a good life and a good death into 2,000 words. (I mean, I don't recommend it.)

Here's something from the cutting room floor:

"Regarde mononc' Jim," he said in 1987. "Regarde matante Jill."
"He's bilingual right now," laughed his wife Joan.
"What part of him is bilingual?" asked her father, Keith, as he filmed.
Jean smiled, pointed at his 11-day-old son, and said, "Sa tête."

I feel like that says a lot about my dad. Let me know if (and how) it doesn't. I want to know.

There's a lot that's just not said—I didn't have the space. I think about that more and more: writing is selection. Omission is key. The reader has to be as creative as the writer. All this from John McPhee, who has been teaching creative writing for 40 years. I have never referred to what I do as "creative writing". But now that I'm teaching something like it, I'm forced to rethink my work. I want to make my stories more cinematic, more captivating. In many ways, I think I've always been a creative writer. I've just never really been paid for it. So I read more John McPhee, and John Jerome, who said "...in attempting to teach, I learn." And I write about it here.

Thanks for the shitty white cake Mike!

-30-