July: T'es Capab'
Cue thunder.
August is half done but only now can I say that July has finally concluded. Some questions regarding our wedding date have finally been answered. Some life decisions finally feel right.
Meanwhile, I've been followed—no, hounded—by the buzz of cicadas. They are rubbing their legs at me. They are screaming SUMMER, and I keep telling them SUMMER WAS CANCELLED. They keep at it. I shut the window and turn up the AC or stick earbuds and a Jumbo Freezie in my ears and mouth.
Audiobooks have been my summer listening staple. I highly recommend Moon of the Crusted Snow by Waubgeshig Rice. A First Nation rez in northern Ontario experiences a blackout of electricity and telecommunications as Evan is hunting moose. He and his family are getting ready for winter. Days later, as the whole community is reeling from the realization that the outage is not temporary, and they have no idea what's happened "down south", two boys from a fictional version Sudbury show up on snowmobiles: "You guys have no fuckin' idea how good it is to see you," they say.
Why?
"Everything's fucked up," says Kevin, as he stifled another sob. "Everything's fucked up. We had to come home."
There's an early scene in this apocalyptic novel where residents of the small town are panic buying all the food they can grab in the general store. I listened to that part as I, masked, was cautiously navigating the movements of other shoppers in FreshCo on Merivale Road. It was a little surreal.
The deterioration of society didn't quite go that way, in March. I definitely saw some strange behaviour though. Some people were emboldened by the pandemic.
I, for example, had a brief love affair in July.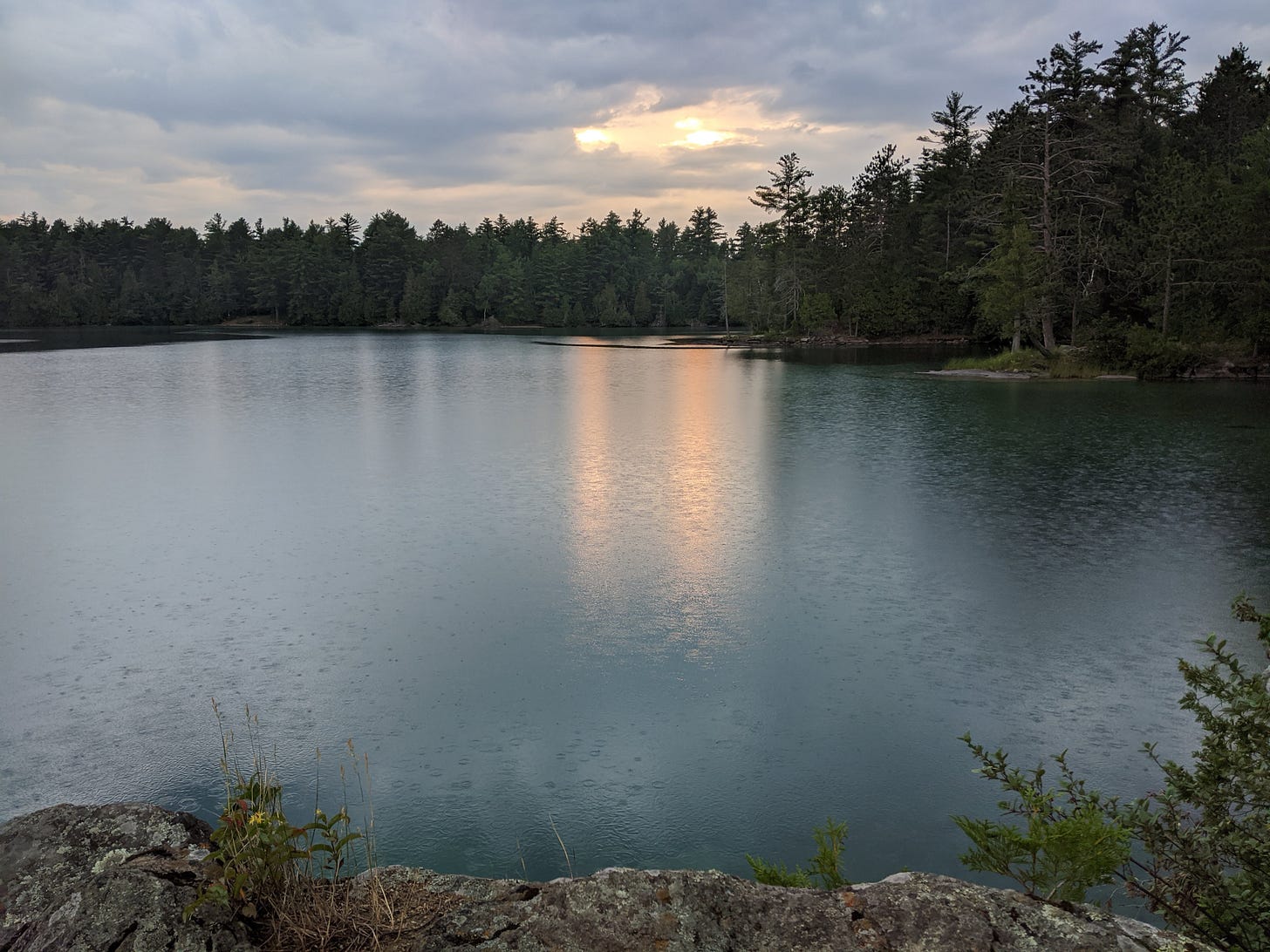 Hmm, more like we.
On July 9th, Karine and I fell for 606 Dickinson, a split-level house between Riverside and Bank. "I'd live here," I texted my wife to be. The next day we saw inside it. We agreed. On the 12th, I drafted a gushing letter about our feelings. On the 14th we overbid on it, attaching our hopeful message to the homeowners. They "liked the letter," but they preferred a $70,000 over-asking from someone else, it seems.
It became just another milestone of the Summer That Wasn't.
Kyle and Elina would have visited from Finland. Rage Against the Machine would have played at Bluesfest. We would have been married at the Opinicon Resort on Sept. 19.
Small but essential pieces of that matrimonial puzzle came together as July ended: a three-piece suit appeared, then was whisked away for alterations. Six bowties, four face masks, and two golden rings landed on our doorstep. Then, with official restrictions published by the venue, we tried to imagine our big day within their confines. Finally, we could not.
Planning a wedding during a pandemic: highly unrecommended.
After a year and a half of dreaming and booking and budgeting, here comes circumstance—that fickle fuck—to almost ruin it all.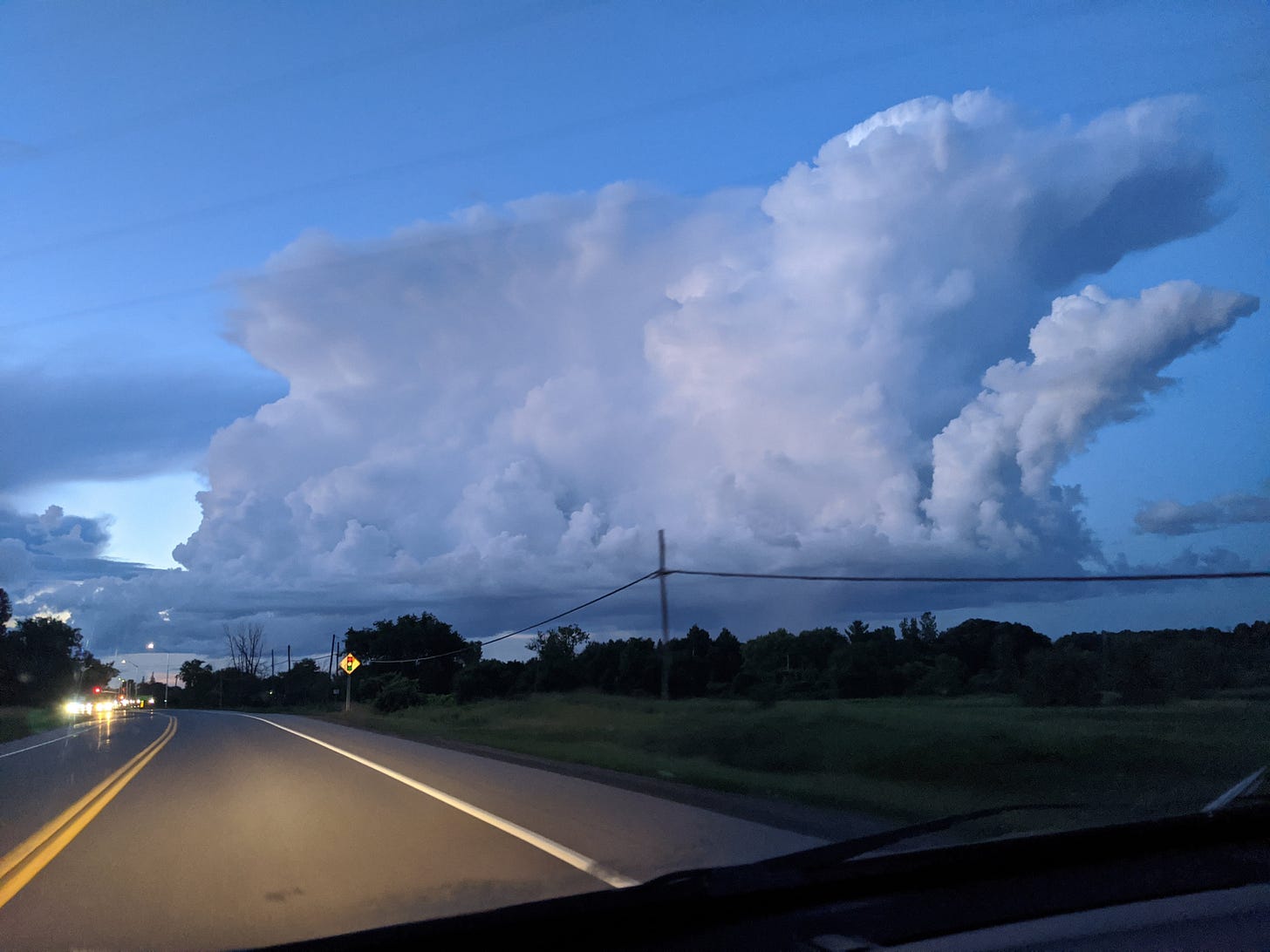 The keyword is almost. Thirty-four days until the big day. Try again to stop me from marrying my best friend. Try again, you fickle fucking year.
You do what you can, always. Parce que t'es capab'!
July began with an anomalous Canada Day: no fireworks or firecrackers detonated on Mair Lake in North Frontenac Park. It was a July 1 with only raccoon rustles and the howls of loons.
There are studies about green space and its effects on the mind, the head, the consciousness. Are there studies that include the diet of roasted sweet potatoes, pizza sandwiches, beer and mushroom risotto, and weed gummies and boxed wine? I feel like it's a research opportunity that I'd be willing to contribute to. Here goes:
In the woods, we are forced to forget that pants pockets are made for phones, wallets, and keys. In the woods, pockets are for lighters, knives, tissues, rocks, spices, granola bars, weed gummies, and pens. Time also stops, or matters less, and smells take precedent. Pine. Swamp mud. Polyester hammock. Rain. Fried onions. Plastic water bottle. Wet bathing suit. Peanut butter.
We gain the olfactory sensations of raccoons. We return to civilization with clear minds, open hearts.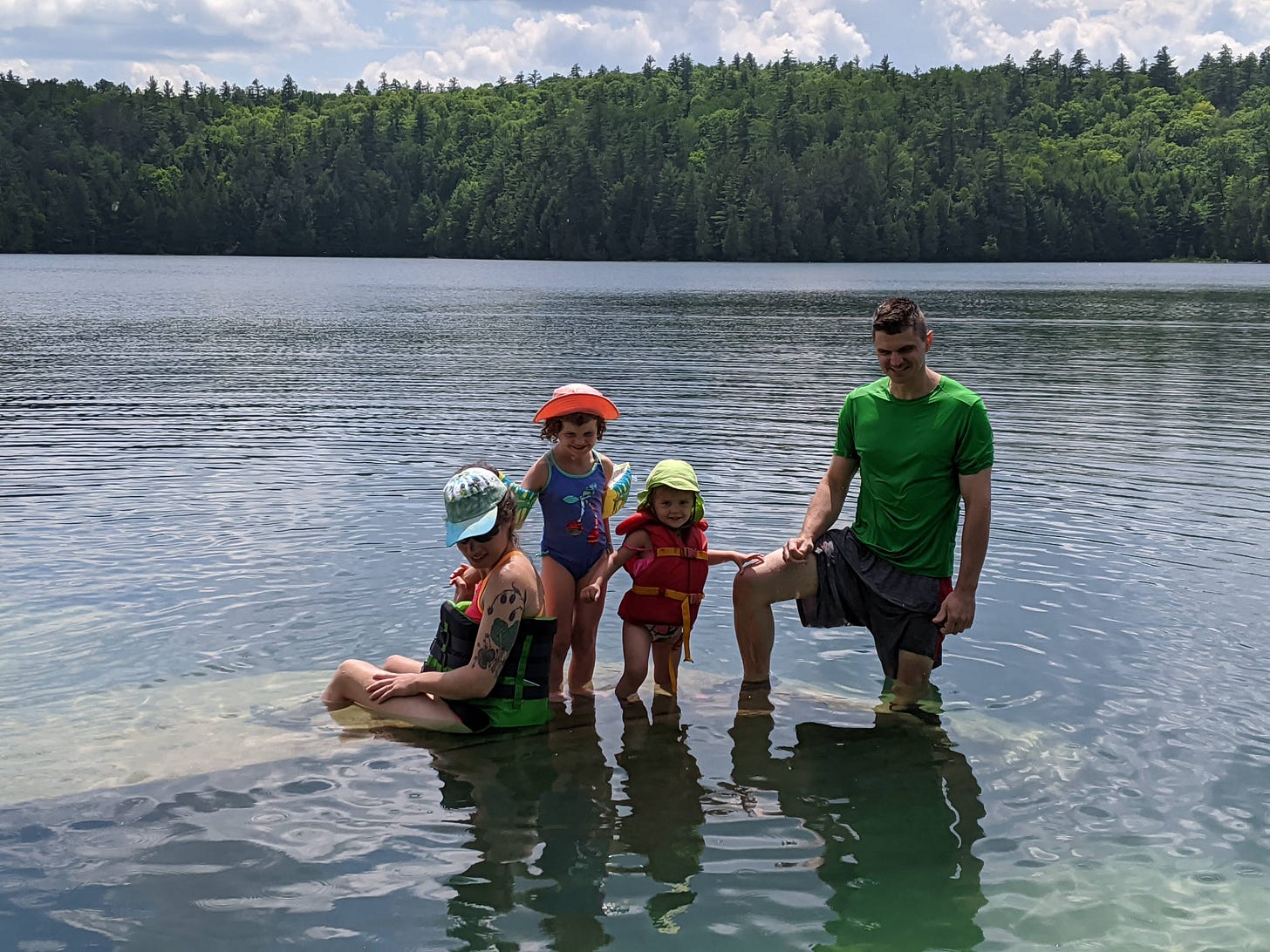 Because there is still much to do during the Summer That Wasn't.
The day we bid on a house, I listen to Bing & Ruth's "City Lake / Tu Sei Uwe", the last song on Tommy Orange's There There playlist, as I bike with a bundle of branches strapped over my left shoulder.
They're from the triangular gully at the entrance to Carleton campus. I hid my bike and descended into the forest pit to find bean and pea poles for my garden. Under my feet I saw many things. A stubby brown bottle. Half a stubby brown bottle. The butt of a green bottle. A closed Orangina bottle with dregs and no label. The top of coffee mugs. Two red solo cups spooning. Multiple squashed plastic bottles. A Red Bull can. A Busch can. A beige computer monitor. And a number of biking water bottles, like one branded by Shimano surrounded by shattered glass and another sinking into dead leaves that says, "Refill Me!"
I'm here for the sticks. I fish them out of trees, out of the underbrush, and clip them off of long-dead trunks. I strap them together with a bungee and tomato Velcro.
Three boys bike away from the Hog's Back lockstation as I bike up to it with my bundle. I'm acutely aware that what I am carrying can be called a faggot. The branches extend about seven or eight feet behind me. I smile at all three teens, daring them to talk to me. The last kid, in a helmet and sunglasses—like me—with a folded scooter strapped to his back, tells me, in apparent earnest, "Nice sticks."
And he's gone. I have no choice but to believe he's being sincere. I shout, "Thanks bud!" I pronounce "bud" like a hockey player: bleating out something closer to "bod". It may have been a little disingenuous. But it was the nicest non-comeback I could come up with in a split second.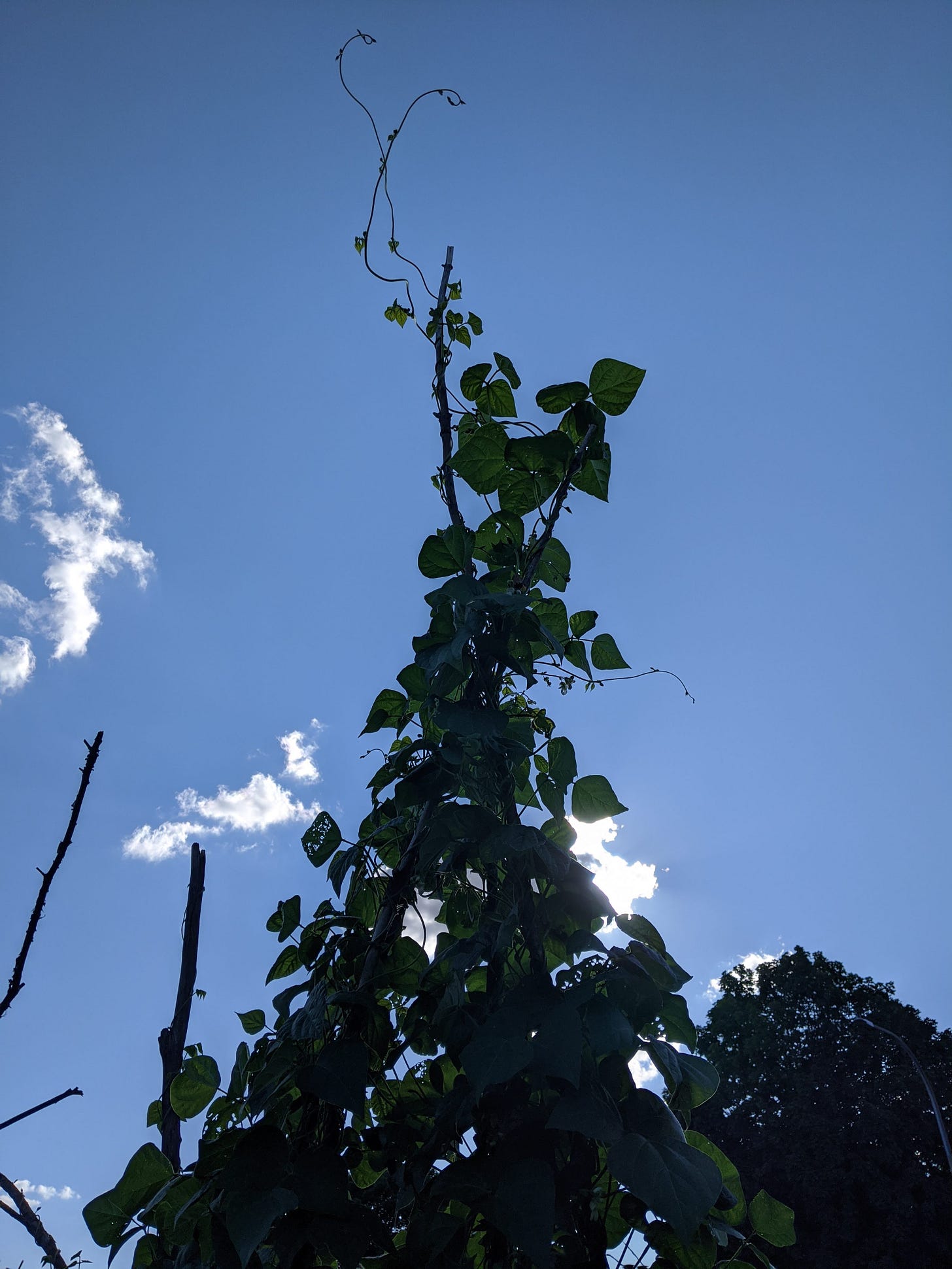 It felt necessary to garden in the months of furniture-falling thunder strikes and desert-like droughts and the pandemic.
Camping really tied it all together, though.
On July 26, around 4:30 a.m., Capucine wakes me up. She gags politely to indicate that she wants out of the tent. The zippers emit high-pitched whines as her throat pulses. Outside, she ejects a little log of cud and yellow bile into the tall grass that she's been snacking on for two days. I have to keep my headlamp's light on her face in case the unthinkable (to me) happens. My friends who just adopted a Bernese mountain dog puppy have already confirmed that their dog is quite different from ours. He is a grazer: he eats kibble sparingly. Feces though, and particularly his own, disappear quickly if left unattended. It has never crossed my dog's mind to eat her own crap—please Lord, let me believe that—but it is unthinkable (to her) to let calories go to waste. Also, she loves kibble more than anything in this world. And so, even in the pre-dawn light during a camping trip, I have to be ready to stop her from immediately devouring her own vomit. 
She does not go for it. She blinks in the light. I interpret her look as one of shame. (My, oh my, don't we put a lot into our dogs' heads?) Then I have a very 4:30 a.m. thought, as I bag the stuff in a poop bag: I hope that I'm able to sustain a work momentum that carries me through a full-time job. I've been known to lose steam, y'see. And I have decided to get a full-time job.
Sleep seems pretty far away at this point. So, Cap and I head in the pitch dark to sit in the breeze of a quartz peninsula, facing west, then east. Somehow, there are still mosquitoes trying to drink our blood in the wind. Two nights earlier, I had stayed up late as the fire burned down. Everyone had gone to sleep, including Cap—my tentmate—who was then curled up next to me in front of that firepit in a loveseat camp chair. We were surrounded by mosquitoes but I couldn't see them in the dark or hear them over the fire.
Now, on this white rock, I hear them despite the breeze.
The sky is still dark but lightening. I can see the white that had been covered in juniper branches and roots when my friend Matt first found it. He'd been a lackey for a farm up the road. He had explored the local waterways on his time off. A canoe trip to a little island had given him the vantage of what seemed to be a quartz peninsula overgrown with juniper. Over time, he and his siblings built up benches, a kitchen counter, a firepit, and clay experiments (pots, plates, candlesticks). He ripped up branches of juniper roots and brush on the quartz stone point. The whiteness was beautiful, and so Matt kept tugging. When placed in a fire, the pieces of quartz snap in half in clean breaks. The juniper tore his clothes and stabbed his arms and hands as he cut most of it back to expose the stone. That was six years ago.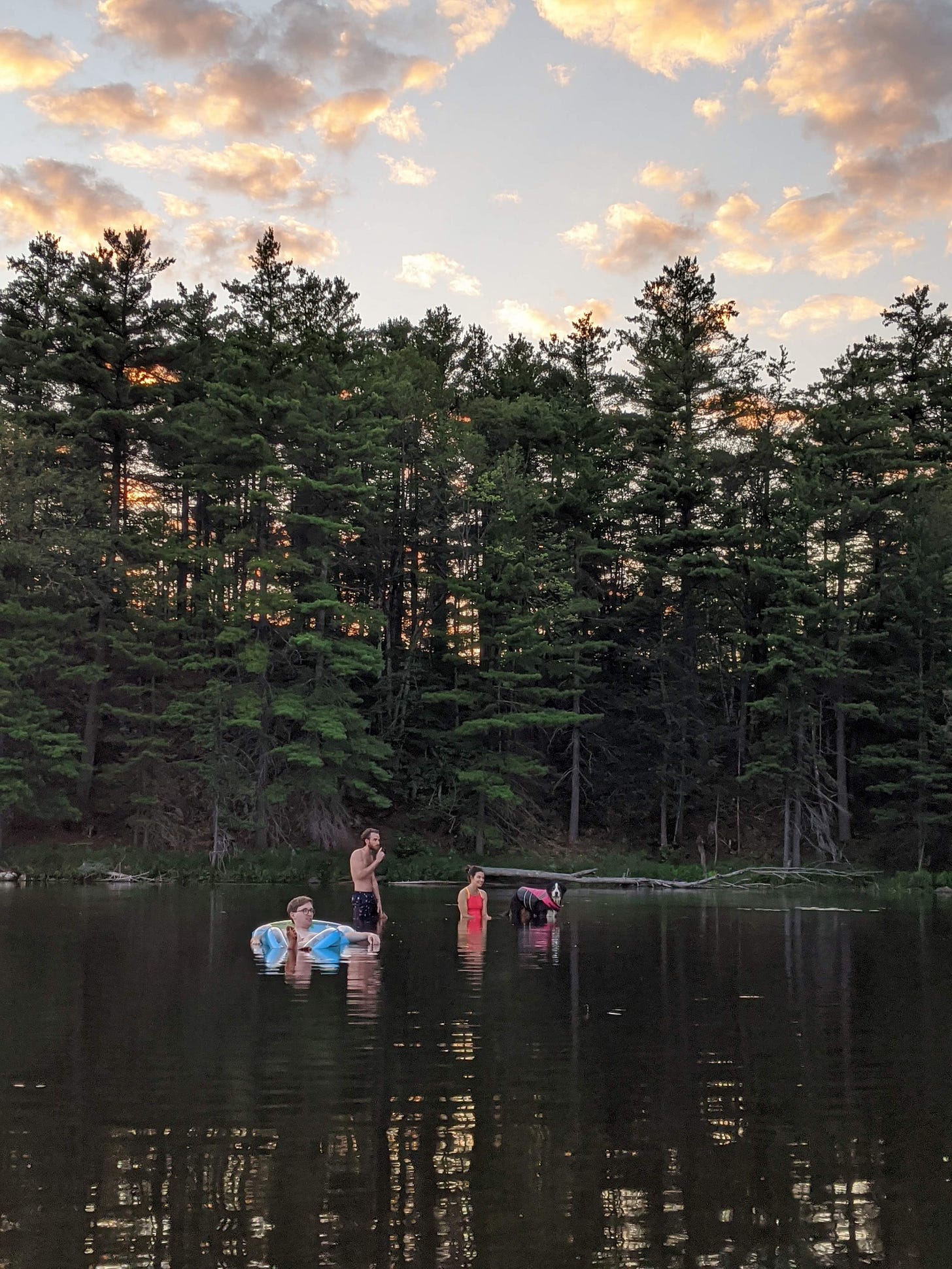 The common dawn sounds of birds begin, perhaps for the first time or perhaps restarting after Cap's puking had turned them off. A loon howls in what seems a more plaintive tone than usual. Cap stares west into the dark as the put-put and splash and bubble of the lake hit the quartz shore. My water shoes, soggy and encrusted with pine needles and cedar branches, are waiting to bake here once the morning light finds them. The sounds of birds and skeeters are full-on now, making us feel welcome. 
Cap: on her purple towel, snoring.
Joe: in his yellow Canadaland shirt, with a headlamp he will soon be able to turn off, scribbling.
The dawn is still only a hint of light in the furthest part of the sky but it is chasing away the stars. There are only bright lights left: Jupiter or Saturn, and Antares (a red star, named the "rival to Mars"). Two nights ago, we see the comet known as NEOWISE from the island where Matt first discovered his little white jewel of a camping spot. His Sportspal boat ferried Karine, Cap, Christiaan, and I over to the island to see the comet that was just discovered in March. It would only be visible for a brief time before disappearing for 6,800 years. Only by looking away from it could we see it, in our periphery.
Yes, I've been known to lose steam. I think that again as I brush bugs from my dog's nose. The light on the horizon will soon allow me to turn off my headlamp. The bird calls beckon the day up. But then there's the high-pitched whine of zippers again, as Cap and I crawl back into the tent. My dog is as crumby and smelly as my water shoes. She curls up next to me and I pull my shirt over my face, to hide the coming day, not the smell. I kind of like the smell, coming from her.