This newsletter is about writing to people. If you agree that the medium is the message, then consider just what kind of blessed memo a postcard, short note, or printed photo with a stamp slapped on the back could be right now. Especially right now. If you'd like a postcard from another time and place, please send me your mailing address.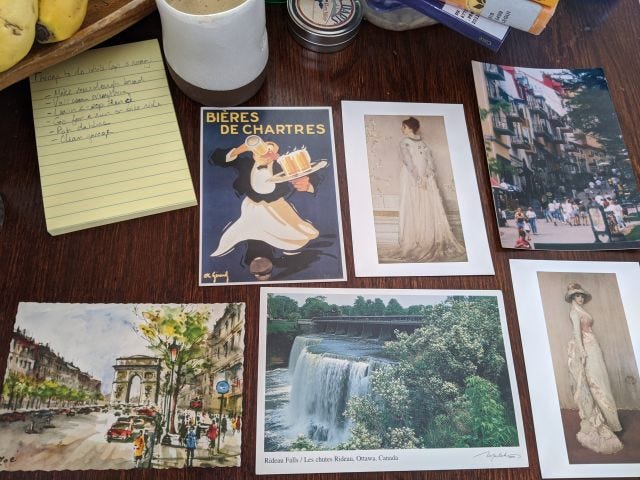 As I write this in my driveway, a provincial Emergency Alert honked from mine and a neighbour's phone, also in her driveway. "Stop the spread. COVID19 can be deadly. The time to act is NOW." A shared, weird reality. But reality nonetheless—I'll take it. (This is me just taking notes about what's going on.)

Who cares about that? Here're some snowdrops, from March 30: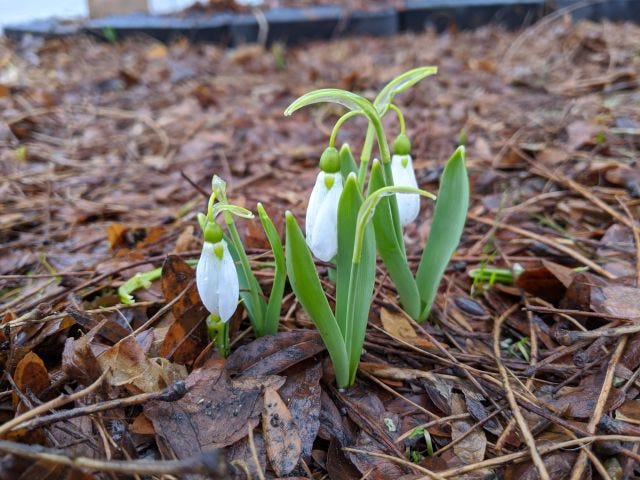 After much handwringing (which, with soap, can become handwashing) I finally got an email 11 days after my two-minutes-to-deadline submission:
Dear Writer,

Thank you for your submission to the Dalton Camp Awards 2020. This email confirms receipt of your essay.

We have received an unprecedented number of submissions this year, and our jury will be giving each their due over the coming weeks...
Which is good. If I don't think about it too much, I can say I've already won, just because I wrote and submitted it. (But don't think about it too much.)

I wrote my Essay as "a letter to my students", which I decided, back in 2019, was the form it should take. "Might stand out," I thought. But since submission, I've discovered this is a powerful literary genre: the writer/teacher addressing the writer/students. Being unaware, before I tried it out, that it is a semi-popular writing form was a blessing.

Since then, some of the best things I've read are writers writing their students.

On March 13, I picked up four books at the Ottawa Public Library. One was Pity The Reader, about Kurt Vonnegut's teaching. (It's wonderful.) That day, the City of Ottawa announced they would be close the OPL (and many other things) from the 16th to April 5th (that's tomorrow). Time flies.

Pity The Reader's title comes from his signature humane and absurd advice. He eight things to remember in his "How to Write with Style" from 1980. Number 7 was Pity the Reader:
They have to identify thousands of little marks on paper, and make sense of them immediately. They have to read, an art so difficult that most people don't really master it even after having studied it all through grade school and high school—twelve long years... Since our readers are bound to be such imperfect, artists, our audience requires us to be sympathetic and patient, teachers, ever willing to simplify and clarify.
On March 20, Haligonian writing teacher Kim Pittaway, who used to be my j-school coordinator Julie McCann's editor at Chatelaine, shared this on newsletter:
As immersed as we are in the crisis of the moment, it can seem impossible to imagine what might come after. Do we return "to normal"? Do we move on? Forget? The transcription of a lecture by Chinese author Yan Lianke, IAS Sin Wai Kin professor of Chinese Culture and chair professor at The Hong Kong University of Science and Technology, to his creative writing class is worth reading—a plea for those of us who are writers to "derive memories from memory" rather than repeating some more acceptable "collective memory."
I read that transcription the afternoon before I submitted my Essay. (I highly recommend it.) It influenced it directly, as one of my Journalism students who got a sneak peek indicated to me.

This part stood out:
"If reporters do not report what they witness, and authors do not write about their memories and feelings; if the people in society who can talk and know how to talk are always recounting, reading, and proclaiming in pure lyrical political correctness, who can tell us what it means to live on this earth as flesh and blood?"
This morning, April 4, Karine told me to listen to the introduction to a new podcast by The New York Times, "Sugar Calling". In it, writer Cheryl Strayed talks with her old writing teacher, George Saunders, and he reads to her what he just wrote his students.

It is exactly what I hoped to say to my students, when I wrote them my encouraging, helpful, and honest message about our changed world (not the Essay, but an actual announcement through email). I transcribed George Saunders's letter—even added a hyperlink at the bottom—for me, for you, for anyone who wants to read and wants to write. Here're some parts:
Are you keeping records of the emails and texts you're getting? The thoughts you're having? The way your hearts and minds are reacting to this strange new way of living? It's all important.

It's good for the world for a writer to bear witness and it's good for the writer too. Especially if you can bear witness with love and humour and, despite it all, some fondness for the world just as its manifesting, warts and all.

All of this to say: there's still work to be done, and now more than ever.
What resonated the most with me:
Well, this is all sounding a little preachy and let me confess that I'm not taking my own advice at all.
It's a struggle! But I'm taking notes, y'see. And you can too. Here are two pieces of advice I give a lot and that a lot of people give me about writing projects:

1. Start small,
2. Just start.
Writing is fighting. This is me fighting through the unknowns to figure out some of the questions:

What needs to be said?
What needs to be noticed?

Thanks for reading,

Joe

PS: "When the world wearies and society ceases to satisfy, there will always be the garden The Legend of Zelda: Ocarina of Time."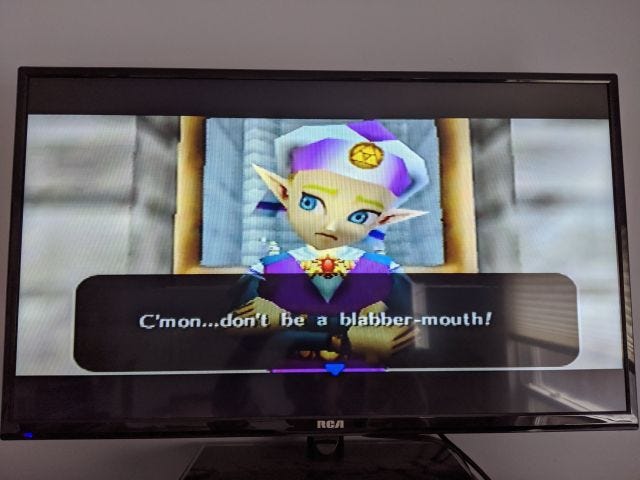 -30-