Today is my sister Annie's birthday. She is 31. I'm still older, dude. Happy day!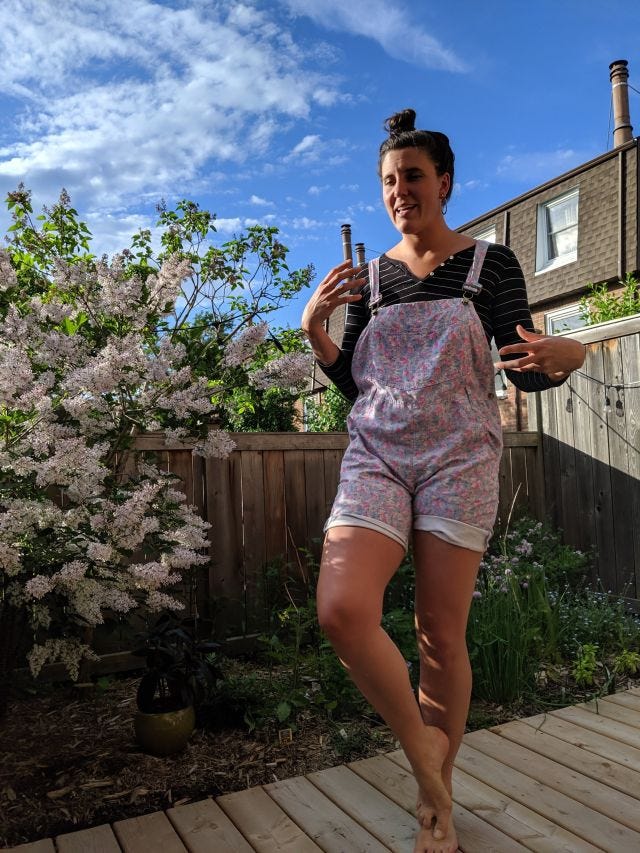 This issue of T'es Capab' for the month of Shmarch is brought to us by RISORGIMENTO, AGOG, PACIFY & SLIMSY. Four words from my Word A Day calendar from March 24 to 27. They mean: revival, eager or very excited, to sooth or settle down, and flimsy or weak.

Let those make as much sense as you want them to. Obviously there will be links between a random day calendar's content and the day-to-day of our weird lives. If you've ever been a human being before, you'll know how enjoyable (necessary?) it is to connect the dots.

Sometimes they're just dots, though.

You could do what I do: ball up the little rip-away paper, toss it in the recycling bin, and store those words in your mental quiver. Or toss them away. (It depends on the word.)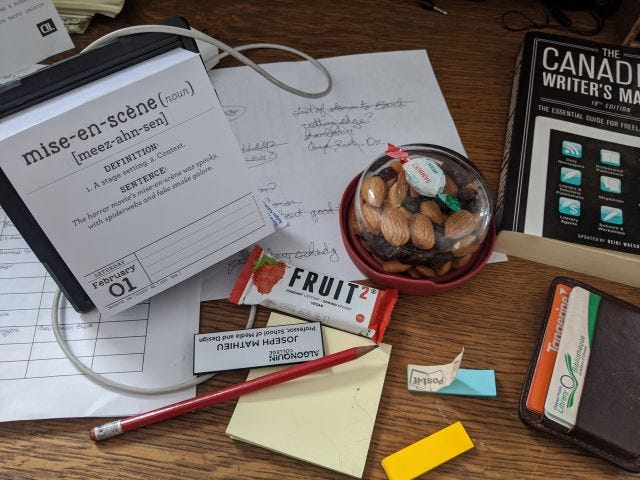 You know what?
Hey...
HEY!
Tu m'écoutes-tu là?
Tu es capable.
Ce qui se passe va passer. Nous en sortirons plus fort.

If you start taking K-pop dance lessons like some of us, we'll all emerge from this emergency as dancers.

&&&

My newsletter's schedule has changed. I don't know when it will update but it will more regularly. If that's a problem for you and you want to unsubscribe, consider passing this along to someone else. It's not spam if it comes recommended!

(Also, I'd appreciate more readers. Some people have unsubscribed since the pandemic began, which was surprising and somehow refreshing.)

T'es Capab' was always an extension of my first serious blog called Do Your Best. I wrote things down in that blog because: a) I wanted to practice writing, b) I liked to be read, and c) I liked to record my travels and triumphs and fails. Now I write things down (in this newsletter and elsewhere) because: a) I need to write, b) I want to get paid, and c) I want to learn.

Right now, I'm more interested in learning than writing or earning. And I hope this attitude stays with me for a long, long time. Longer than the pandemic, which, unfortunately, will likely be a long one.

If anything, T'es Capab' will be a reminder to you (and to me) that there is so much good work to do.

Some of my questions for the next few weeks will be:
What is lost?

What can be replaced?

What needs to be said?

What needs to be noticed?
And if you stick around I'll share some of my answers.

&&&

Rest assured that this will mainly be a newsletter about DOING junk, TRYING things, and LEARNING stuff. I will inevitably talk about the coronavirus—though I will not despair—and I will level out the weird news with lovely or useful things like this six-year-old's song, this decade-long lesson list by The Oatmeal, and this advice for parents on how to draw with their kids.

What a great time to start an adventure webcomic! I recommend Vattu, The Order of the Stick, and Paranatural. If you had to choose one: The Order of the Stick.

I will also add thought-provoking stuff. Starting with this: a writing teacher telling his students to notice, to take note, to remember what is happening, to not forget about what we are living through even as some people start to forget...

I'll also add my reporting, which will include the mundane and the wonderful that happen in the everyday.

Here's a taste: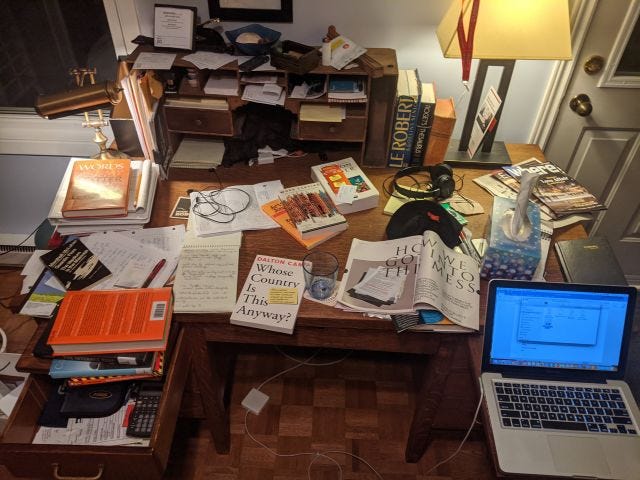 I. Here's my desk moments after submitting my (hopefully) award-winning Dalton Camp Award. (I can't wait to not win so I can share [or sell] the updated [and better] version of what I submitted.) Despite an oppressive intake of news, welcome calls from friends and family, the cancellation of paid work, the changeover to online teaching, the lack of exercise, and the worries, and the worries, and the worries... I submitted it on March 20, 2020 at 7:58 p.m. The deadline was 8 p.m.
II. My former roommate and go-to Oregonian handyman John McDonald wrote me with something to help keep things in perspective. It included an excerpt from The Lord of the Rings: The Return of the King, after the big battle at the end: "And all the host laughed and wept, and in the midst of their merriment and tears the clear voice of the minstrel rose like silver and gold, and all men were hushed. And he sang to them, now in the elven-tongue, now in the speech of the West, until their hearts, wounded with sweet words, overflowed, and their joy was like swords, and they passed in thought out to regions where pain and delight flow together and tears are the very wine of blessedness."

III. I gave blood last Saturday. Blood banks need donations regularly since transfusion blood can last between seven and 42 days. You get free cookies and chips.
I wrote this:
I waited in line to give blood—first in the cold, bright sun of Saturday, then in the scared and sterile Canadian Blood Services (CBS) clinic on Carling Avenue. Silence all around us, except the shuffle of nurses and the quiet calls for the next donor by their first name. The only chatting comes from gloved but maskless nurses, urging us to eat Lay's Chips and Pretzels and drink that water. I arrived at 10:30 a.m.
Beside the quiet, top-heavy man in a camo jacket with rubber boots is a quiet, plump woman in a purple jacket over her purple sweater. She is holding her purse close to her, it's purple. Her earrings: purple. She smiles faintly at me when I smile. The man in the camo has the same smile: benign and simple. We are doing our part and are paranoid to be close to one another.
Does talking increase the likelihood of transmission of a flu virus? His mouth is surrounded by straight stubble like the bristles of a brush. His fingernails: bitten down. I want to ask him where he lives, how often he's given blood. But I don't. We just wait to give blood, and by the time I am called—12:25 p.m., an hour and a half after my donation time—42 people have donated that day. I'm not sure what number I am, but it's my 11th donation ever and it takes 12 minutes to drain out of me.
I ate six or eight cookies and left at 12:45 p.m.
My friend and first editor Jenny Tang, wrote this a few months ago about donating:
What a delight it was when CBS started urging us to snack before the donation (full snack-sized crunchie Cheetos!). I once asked the pre-screening nurse if she's ever pricked a powdered cheese-covered finger. She said she has, and the donor simply sucked on their finger to clean it up. This nurse (bless her) also asked if I was in Myanmar when I told her I recently travelled to China (pre-COVID). Alex's nurse, who is Chinese, complimented him on his pronunciations of the provinces we visited.
IV. This week, I was almost scammed by an email. Someone wrote to say "your website is about to expire." My friend and web site designer Isaac Vallentin set me straight: "Neither of us has done any business with a website called domain-seo-renewal-email.info. They're phishing for your credit card. Carry on, just another day on the internet."

Best wishes to ya. Et bonne fête, Annie.

-30-